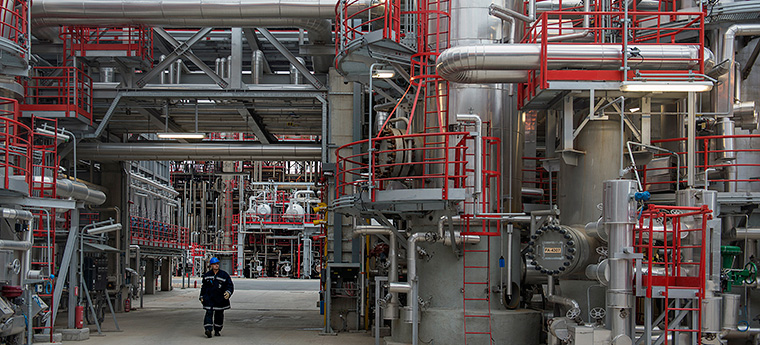 Testing procedures are defined by the application of standard methods, quality-system documents and legislation.
The Laboratory applies certified and non-certified testing methods. Certified methods applied in the Lab are listed in the laboratory scope of accreditation. Development of the testing Laboratory is mainly directed toward the petroleum industry and their founder NIS j.s.c. Novi Sad.
The Laboratory has a professionally trained and skilled management and technical staff performing their duties as per job descriptions and it has the technical resources for independent performance of activities. The professional competence of the staff is ensured by planning and implementation of trainings in testing and also in maintenance and permanent improvement of the management system.
The Laboratory is an independent organizational entity performing laboratory tests. Independence and prevention of the conflict of interest are ensured in the way that the Manager of the Section for Control and Laboratories reports directly to the Director of "NAFTAGAS-Tehnicki servisi" as is clearly defined by the internal organization and job schedule and definition of obligations and duties.
The Laboratory quality policy and the documented procedures are directed towards ensuring the protection of confidential information and user's ownership rights as well as towards raising the level of user's confidence in the competence, impartiality, fairness and professional approach. Observance of ISO/IEC 17025, SRPS ISO 9001:2008, and SRPS ISO 14001:2005 standards is fully supported by the top management.
The Laboratory applies testing methodologies in accordance with the SRPS and international standards.
If the client does not specify a testing method or if a method proposed by the client during negotiations is obsolete or unsuitable the method must be mutually agreed upon, taking into consideration the fact that the Laboratory applies standardized methods. 
Испитивање опреме под притиском

Место испитивања: Лабораторија (Београдска 26, Зрењанин) и на терену

No.

Test subject / material / product

Test type and / or measured  feature (test technique)

Range of measurement (where applicable)

Reference document

1.

Overpressure safety devices - Safety valves

Setting the initial opening pressure

0 ÷ 250 bar

SRPS EN ISO 4126-1:2010, t.7

Setting the closing pressure

2.

Pressure vessels not exposed to flame

Standard hydrostatic test

0÷240bar

SRPS EN 13445-5:2010, т. 10.2.3.3

Pneumatic test

0÷300bar

SRPS EN 13445-5:2010, т. 10.2.3.4

Combined hydrostatic / pneumatic test

0÷300bar

SRPS EN 13445-5:2010, т. 10.2.3.5
Испитивање опреме под притиском

Место испитивања: Лабораторија за испитивање (Спољностарчевачка 199) Панчево

No.

Test subject / material / product

Test type and / or measured feature (test technique)

Range of measurement  (where applicable)

Reference document

1.

Overpressure safety devices - Safety valves

Setting the initial opening pressure

0÷70bar

SRPS EN ISO 4126-1;2010,т.7

Setting the closing pressure
Laboratory tests by means of non-certified methods:
Испитивања без разарања: опрема под притиском

Место испитивања: Лабораторија за испитивање (Београдска 26, Зрењанин) и на терену

No.

Test subject / material / product​

Test type and / or measured feature (test technique)

Range of  measurement (where applicable)

Reference document

1.

Joints welded by melting

Liquid penetrant tests

 

SRPS EN 571-1:2005

Visual testing
 

SRPS EN 970:2003

Magnetic particle testing

 

SRPS EN 1290:2004

Ultrasonic testing

 

SRPS EN 583-1:2007

SRPS EN 1714:2010

2.

Metal materials​

Visual testing

 

SRPS EN 13018:2008

Magnetic particle testing

 

SRPS EN ISO 9934-1:2008

Ultrasonic testing

 

SRPS EN 583-1:2007

Ultrasonic thickness testing

 

SRPS EN 14127:2008
Испитивања без разарања: опрема под притиском

Место испитивања: Лабораторија за испитивање (Спољностарчевачка ББ, Панчево) и на терену

No.

Test subject / material / product

Test type and / or measured feature (test technique)

Range of measurement (where applicable)

Reference document

1.

Joints welded by melting

Liquid penetrant tests

 

SRPS EN 571-1:2005

Visual testing
 

SRPS EN 970:2003

Magnetic particle testing

 

SRPS EN 1290:2004

Ultrasonic testing

 

SRPS EN 583-1:2007

SRPS EN 1714:2010

2.

Metal materials​

Visual testing

 

SRPS EN 13018:2008

Magnetic particle testing

 

SRPS EN ISO 9934-1:2008​

Ultrasonic testing

 

SRPS EN 583-1:2007

Ultrasonic thickness testing

 

SRPS EN 14127:2008